Judah And The Lion Tells Emotional Story Behind 'Pictures'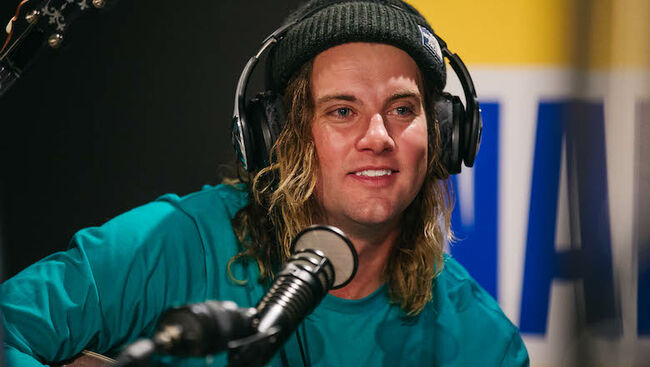 On Wednesday (February 20), Judah & The Lion shared its latest single, "Pictures," which just so happens to feature four-time GRAMMY winner Kacey Musgraves. Conveniently for the folk rockers, the country star's impressive haul came just days before they were set to release the song. During a visit to The Bobby Bones Show, singer Judah Akers referred to the coincidence as "God's timing" with a laugh. Both artists live in East Nashville, so when Akers approached her for a collaboration she said yes. The result is a beautifully heartbreaking ballad that stemmed from one of the hardest times in the young singer's life.
"The song is heavy in context. It kind of sets up the story of the record, a little bit," Akers explained. "The bulk of the record is kind of a personal affair, for me...I grew up in an amazing family, I'm very close with both my parents...and my family kind of caught ourselves in the middle of this storm in the last five to 10 years, I would say, and it kind of culminated in my parents getting divorced a couple years ago."
"The bulk of the record has to do with my own kind of struggles within that," he continued. "It rocked my world in a way I wasn't prepared for...I was very much in the midst of my own head, in a selfish way was just kind of going through my own disaster in my life. We had a lot of cool stuff going on in the band, but in the midst of all of that I felt like I was dying inside because my family back home was falling apart, essentially."
"My mom called me when she was packing up the things in our childhood home, and she just broke down and said, 'I can't do this,'" he added with a tear in his eye. "And in that moment I think I just felt my mom's inner stuff that was happening with her, and I was out of my own story and into her story."
The frontman emotionally continued to explain the catharsis he felt writing "Pictures" as he wiped tears from his eyes. The song is featured on Judah & The Lion's upcoming album Pep Talks, which is slated for a May 3 release.
Watch Akers' emotional interview below.